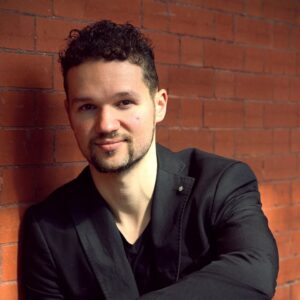 Philippe started out as a tap and ballroom dancer in his very early ages in Germany. Inspired by world renowned Ira Bernstein, he took part in many international workshops which made him a very versatile dancer and led to his number one passion : DanceSport!
He started training in ballroom and latin alongside the German Ballroom Formation Team. Eager to learn more, he trained in ice-skating in the South of France and ranked second at the French 'Team' Championships.
Martial Arts, Jazz and Musical Theatre on top of his ballroom and latin training, made him the well-rounded artist he is today.
Starting his professional life as a successful engineer, he decided to stop this path and dedicate himself to his real passion: dance. After winning many national competitions and ranking in the top finalists in the French Ballroom Championship, Flore and him took the stage internationally. He is a licensed Zumba Instructor, Latin American, Ballroom, Rock'n Roll and Salsa Instructor and also masters many other styles such as Boogie Woogie, Lindy Hop, West Coast Swing, Zouk,…
He now competes for Canada in DanceSport and competes at Advanced Level in West Coast Swing. His classes can be enjoyed in Québec City and Montréal as well as in other events around the world.
He recently danced in Las Vegas in a show for The Cosmopolitan.
It is with enthusiasm and joy that Philippe is devoting his entire life to dancing and transmitting his passion to others. His versatility makes him an incredible asset for any event or dance school