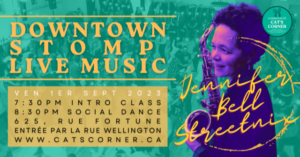 Streetnix is ​​a 5-piece band from Montreal, which debuted in 1987. The band that played FIJM from 1987 to 2017 became a crowd favourite.
Streetnix also performs regularly at other Canadian jazz festivals as well as many other outdoor events throughout Eastern Canada and the United States. Streetnix has toured Europe as well as the Caribbean.
With several recordings to his name, Streetnix has performed frequently on Canadian public television and radio. The group has become an ambassador for Jazz in Montreal.
Streetnix also provides services in primary and secondary schools.
Streetnix is ​​co-directed by saxophonist Jennifer Bell and trumpeter, arranger, composer Bill Mahar. Streetnix is ​​completed by Dave Grott, trombone, Christopher Smith, tuba and Jim Doxas, drums.
To celebrate its 30th anniversary, Streetnix released its 3rd CD, Swingnmetal in June 2017. Its repertoire includes jazz standards, originals and many surprises arranged for quintet.
Streetnix est un groupe de 5 musiciens montréalais, qui a fait ses débuts en 1987. Le groupe qui a joué au FIJM de 1987 à 2017 est devenu un favori de la foule.
Streetnix se produit aussi régulièrement à d'autres festivals de jazz canadiens ainsi que de nombreux autres événements en plein ai tout au long de l'Est du Canada et les États-Unis. Streetnix a parcouru l'Europe ainsi que dans les Caraïbes.
Avec plusieurs enregistrements à son nom, Streetnix s'est produit fréquemment à la télévision publique canadienne et à la radio. Le groupe est devenu un ambassadeur pour le Jazz à Montréal.
Streetnix fait également des prestations dans les écoles primaires et secondaires.
Streetnix est co-dirigé par la saxophoniste Jennifer Bell et le trompettiste, arrangeur, compositeur Bill Mahar. Streetnix est complété par Dave Grott, trombone, Christopher Smith, tuba et Jim Doxas, batterie.
Pour célébrer ses 30 ans, Streetnix sort son 3e CD, Swingnmetal en juin 2017. Son répertoire comprend des standards de jazz, des originaux et de nombreuses surprises arangées pour quintette.