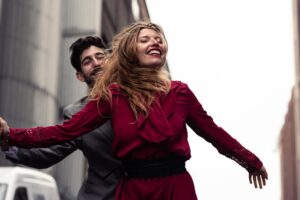 As radiant as she is talented, Alice is one of Followlogie's essential organization staff member. It was natural to have her with us teaching in our Followlogie's Special classes!

Alice Bourgasser was trained in the interpretation and teaching of contemporary dance at the National Choreographic Center of Roubaix between 2013 and 2016. Graduated from both Pôle Supérieur de Musique et de Danse du Nord Pas-de-Calais and the University of Lille 3, with a degree in dance, she left France in 2016 to begin a master's degree in dance at the University of Quebec in Montreal. This is where her interest in swing dances, more specifically Solo Jazz and Lindy Hop, grew to eventually become a full-time job at Studio 88 Swing on top of  teaching internationally with her partner Michel.
In 2017, Alice started to compete and won several gold medals in Lindy Hop (1st Advanced Classic Routine, Luck of the Draw as a performer and Strictly at ILHC 2022), and in solo jazz (3rd All Atar Solo Jazz ILHC 2022, 1st advanced Stompology 2019).  At the same time, Alice has been pursuing her career as a contemporary dance performer alongside Andrée Martin since 2017.
In 2020, she graduated from a master's degree under the direction of Marie Beaulieu. Her research thesis focuses on the analysis of the dance of Whitey's Lindy Hoppers, a group of pioneer dancers of the Lindy Hop style. In September 2021, she begins a new university course at the Doctorate in Arts Studies and Practices at UQAM.
— — —
Aussi rayonnante que talentueuse, Alice fait partie des membres incontournables de l'organisation de Followlogie. C'était tout naturel de l'avoir avec nous pour enseigner dans nos cours spéciaux de Followlogie!
Alice Bourgasser a été formée en interprétation et enseignement de la danse contemporaine au Centre Chorégraphique National de Roubaix entre 2013 et 2016. Diplômée à la fois du Pôle Supérieur de Musique et de Danse du Nord Pas-de-Calais et de l'Université de Lille 3, d'une licence en danse, elle quitte la France en août 2016 pour entamer une maîtrise en danse à l'Université du Québec à Montréal. C'est là que son intérêt pour les danses swing, plus particulièrement le solo jazz et le lindy hop, s'accroît pour finalement devenir un emploi à temps plein au Studio 88 Swing en plus d'enseigner internationnalement avec son partenaire Michel.
En 2017, Alice débute dans le circuit de compétition gagne plusieurs médailles d'or en lindy hop (1st Advanced Classic Routine, Luck of the Draw en interprète et Strictly à ILHC 2022), et en solo jazz (3rd All Atar Solo Jazz ILHC 2022, 1st Advanced Stompology 2019).  En parallèle, Alice poursuit sa carrière d'interprète en danse contemporaine aux côtés d'Andrée Martin depuis 2017.
En 2020, elle gradue de la maîtrise sous la direction de Marie Beaulieu. Son mémoire de recherche porte sur l'analyse de la danse des Whitey's Lindy Hoppers, un groupe de danseur·se·s pionnier·ère·s du style lindy hop. En septembre 2021, elle entame un nouveau cursus universitaire au Doctorat en Études et Pratiques des Arts de l'UQAM.