Nearly twenty years ago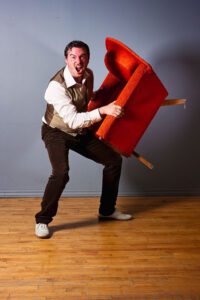 Zack discovered a passion for swing dancing (through the movie Swing Kids… yup. Classic!) and kinda never looked back. Or like, only looked back occasionally. That being said, it's a love of discovery, connection to the other, to ourselves, and to the music that brought him to co-found Swing ConneXion with Maryse Lebeau – after having already made Montreal swing dance history by developing the first years of Studio 88 Swing and the Swinging Air Force.
It is with sustained interest that Zack thinks and approaches his teaching. Always figuring out or discovering new ways to dance, to think, and connect with the spirit of jazz and communication between partners, the best compliment he can receive – despite his many wins on the competition dance floor – is still "Hey thanks, amazing class!"
Il y a près de vingt ans Zack s'est découvert une passion pour la danse swing (à travers le film Swing Kids… yup. un classic !) et n'a jamais regardé en arrière. Ou comme, seulement regardé en arrière de temps en temps. Ceci dit, c'est un amour pour la découverte,  la connexion à l'autre, à soi et à la musique qui l'a amené à co-fonder Swing ConneXion avec Maryse Lebeau – après avoir déjà marqué l'histoire de la danse swing montréalaise en développant les premières années du Studio 88 Swing et la Swinging Air Force.
C'est avec un intérêt soutenu que Zack réfléchit et aborde son enseignement. Cherchant ou découvrant toujours de nouvelles façons de danser, de penser et de se connecter à l'esprit du jazz et de la communication entre partenaires, le meilleur compliment qu'il puisse recevoir – malgré ses nombreuses victoires en compétition – c'est toujours « Hé merci, ton cours était fantastique ! »