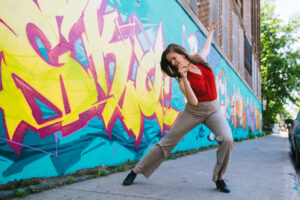 La danse a toujours occupé une place importante dans la vie de Natalya. Elle croit fermement que le monde serait meilleur si tout le monde dansait un peu plus. Natalya a une formation en ballet classique. Elle a enseigné et performé de façon professionnelle le ballet et la danse baroque à Toronto pendant 10 ans. Elle a également étudié le ballet jazz, le flamenco, la salsa et la danse contact. En 2007, elle a découvert le swing quand une collègue l'a apportée à une soirée swing dans un club de jazz du coin. Un peu plus tard elle a découvert le blues après avoir déménagé à Boston en 2009. Ce fut le coup de foudre. Elle a été séduite par l'expression artistique de cette danse, sa musique emballante et sa communauté chaleureuse!
Natalya se classe souvent parmi les finalistes et gagnantes dans les divisions de mix et match, strictly, solo et chorégraphie dans de nombreuses compétitions nationales et internationales de blues, comme BluesSHOUT!, Sweet Molasses Blues, Feelin' Blues, Snowbound Blues, Austin Blues Party, Bambloozled, les Championnats de Swing Canadiens, Enter the Blues et Blues Blast. Elle a enseigné dans plusieurs événements internationaux et a donné des ateliers en Europe, en Australie, aux États-Unis et au Canada. Natalya enseigne le blues et le lindy hop et coache la troupe de blues à Cat's Corner depuis qu'elle a déménagé à Montreal en 2015. Natalya saute de joie chaque fois qu'elle a la chance de transmettre sa passion pour la danse, le mouvement et la connexion!
Dancing has always been a big part of Natalya's life, and she believes the world would be a better place if everyone danced! Natalya was trained as a ballet dancer in Toronto, Canada, where she taught and performed ballet and baroque dance professionally for 10 years. She also studied many other types of dance, including modern, jazz, flamenco, salsa and contact improv. In 2007, she discovered the swing dance scene when her coworker brought her to the swing night at a local jazz bar, and soon after discovered blues dancing when she moved to Boston in 2009. She fell in love instantly with the combination of artistic expression, amazing music, and wonderful people!
Natalya has placed or won mix and match, strictly, solo and choreography competitions at numerous national and international blues events including BluesSHOUT!, Sweet Molasses Blues, Feelin' Blues, Snowbound Blues, Austin Blues Party, Bambloozled, Canadian Swing Championships, Enter the Blues and Blues Blast. She has taught at national events and local workshops in Europe, Australia, the U.S. and Canada. Natalya has also been teaching blues and lindy hop classes and coaching the blues troupe at Cat's Corner since she moved to Montreal in 2015. She is excited at every opportunity to share her passion for dance, movement and connection with others!