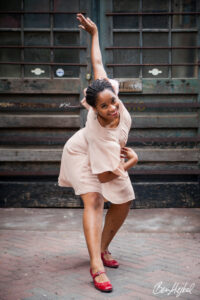 Dee started Swing Dancing at the age of four with her Dad in the basement, wearing her Mom's heels and her favorite plaid skirt. With a hiatus into hip-hop during her school years, she was called back to Lindy Hop, becoming an influential member of the Minneapolis scene, where you can find her teaching at Uptown Swing. 
Dee has taught, performed, and choreographed nationally and internationally. She specializes in vintage jazz, Charleston, and Lindy Hop.   
Dee loves feeling free on the dance floor. She advocates for self-expression and individual creativity as the spirit of solo jazz and Lindy Hop. She loves Lindy Hop's particular way of encouraging collaboration between music and partner, priding herself on making each dance unique to the musical experience and partner.
… … …
Dee a commencé à danser le swing à quatre ans dans le sous-sol avec son père, portant les talons de sa mère et sa jupe à carreaux préférée. Lors d'une pause de hip-hop pendant ses années scolaires, elle a été appelée par le Lindy Hop, devenant une membre influente de la scène de Minneapolis, où vous pouvez la trouver en train d'enseigner à Uptown Swing.
Dee a enseigné, performé et chorégraphié à l'échelle nationale et internationale. Elle se spécialise dans le jazz vintage, le Charleston et le Lindy Hop.
Dee aime le sentiment de liberté sur la piste de danse. Elle prône l'expression de soi et la créativité individuelle comme l'esprit du jazz solo et du Lindy Hop. Elle aime la manière particulière du Lindy Hop d'encourager la collaboration entre la musique et le partenaire, se targuant de rendre chaque danse unique à l'expérience musicale et au partenaire.